Red clay in the spotlight
---
Rhassoul and yellow clay in the spotlight
Warm, generous, flamboyant, sun-drenched and from our Mother Earth, ghassoul clay and yellow clay are in the spotlight in this campaign.
Ghassoul clay: a nugget from the East
Used for millennia in the Middle East, ghassoul clay comes from the Atlas mountains in Morocco. Also called "Earth that washes", this clay is part of the traditions of the Hammam.
From beige to gray brown, rhassoul has many properties that make it essential for facial, body and hair care.
Yellow clay: a care of light
Known for its toning, smoothing and exfoliating properties, yellow clay is a rock full of vitality and 100% natural, offered by Mother Nature since the dawn of time. She knows how to take care of combination to oily skin that she will sublimate.
In this campaign, we want to highlight two clays in bronze colors that have gone through history to take care of the body and mind.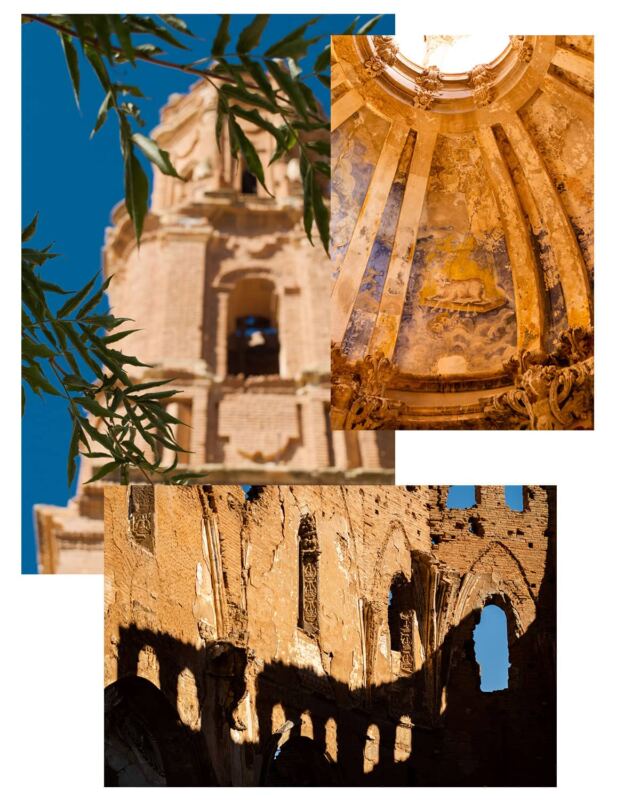 Travel through time
---
Clay has existed since ancient times in its pure, unchanged and authentic form. It takes care of, illuminates, softens and has the best that Nature has always had: a compendium of benefits, without superfluous. As a quest for meaning, a return to the essentials, we want to put our bronze clays at the heart of an unprecedented journey.
Direction Belchite in Spain
For this, we went to the ruins of the martyred village of Belchite, located in Spain, near Zaragoza in the community of Aragon. Witness of fierce battles, this village made of old stones, vaults and breathtaking arches, has retained a historical value that has survived over time. As if frozen in history, this landscape preserved in bronze hues offers a setting in the image of clay: at the same time raw, powerful, rich in meaning and history.
Through these images, follow in the footsteps of a valiant knight who, accompanied by his faithful eagle, walks with a determined step and walks the floor of the ruined church in search of a relic.
Mystical journey
---
In a play of light and shadow, the church seems frozen in time. Within it, the majestic eagle swirls and twirls between its frescoes, its half-uncovered roof and its walls of old stones.
Caught by a beam of light, the knight slowly advances through a cloud with brown hues and discovers an hourglass filled with yellow powder, as if magically suspended in the air and turning on himself.
The knight seizes it and, with an emotional smile, proudly brandishes the hourglass like a relic of immeasurable value.
Clay, represented by this relic, is an ancestral care that has survived the millennia and retained its beneficial properties. Yesterday as today, it is a treasure of nature, a remedy that has traveled through time.
Products in the spotlight
---
Real condensed minerals and trace elements, rhassoul and yellow clay offer gentle and complete care for the face, body and hair. In powder, ready-to-use paste or in care products (soap, toothpaste …), rediscover the benefits of these ancestral clays!
Follow the campaign on Instagram
---